SAGA showed import-substituting products to the Moscow authorities
30 May 2022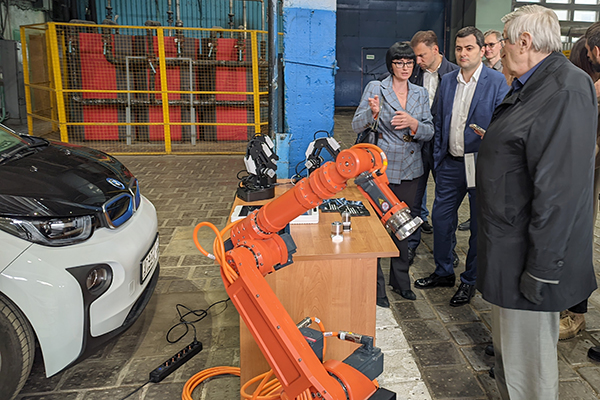 On Friday, May 27, the Moscow production of SAGA Corporation was visited by a delegation of the Moscow Government.
As part of the delegation , the meeting on behalf of the Moscow City Hall was attended by:
Vladimir Efimov, Deputy Mayor of Moscow for Economic Policy and Property and Land Relations,
Vladislav Ovchinsky, Head of the Department of Investment and Industrial Policy of the City of Moscow,
Alexey Artemov, First Deputy Head of the Department of Investment and Industrial Policy of the City of Moscow.
During the meeting, high-ranking officials discussed with the company's management issues of import substitution and increasing the production of devices designed to replace foreign analogues.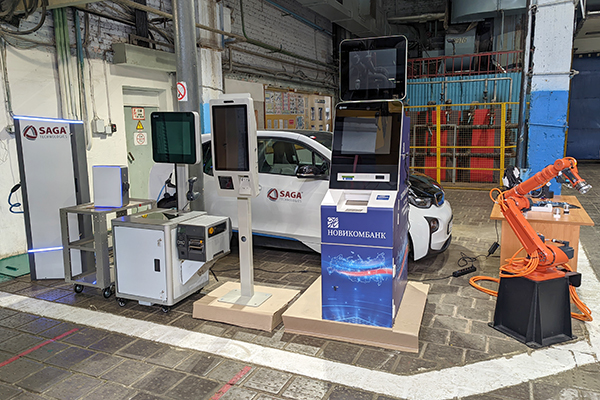 Since December 2020, SAGA devices have been developed that meet the requirements of the Government of the Russian Federation No. 2013 dated 03.12.2020 «On the minimum share of purchases of goods of Russian origin», which sets quotas for the purchase of products purchased as part of public procurement and by state-owned companies.
The following serial devices were demonstrated to the delegation of the Moscow City Hall as successful examples of the development and manufacturing of import-substituting products:
lightweight six-axis industrial robot SRB-6AN-1400-5,
training robot SD1-4-320,
automated deposit machines S-100 TBV-100 MINI, S-100 RDM-100 MAX and S-200 CA,
AP-20 group aggregation station,
serialization and aggregation complex KSA-100,
charging station SP-22 for charging electric vehicles and charging station SP-22-H for charging personal electric vehicle for private ownership,
reduction gearbox SGN-2G-23-20,
industrial terminal (mini-PC) with protection's degree from dust and moisture – IP68.
So, SAGA's competencies in the field of import substitution and the possibility of implementing the capital's plans in this direction were shown to Moscow's Government., правительству Москвы были показаны производственные мощности, компетенции в сфере замещения импорта и возможность реализации планов столицы в этом направлении.
Source: The SAGA Corporation press relations service